Fist of Fun
The Complete Series 1 and 2
gfs-49
Here's a special edition, pared down version of the our bloated Fist of Fun set.

This two disc set contains just the episodes and commentary tracks.

Finally, people with only a casual interest in early Lee and Herring can see what the fuss is all about.

It's Fist of Fun! And here are your hosts. One is Stewart Lee and the other one is known as Richard Herring.

And you can see all 12 episodes from both series of their crazy adventure on this double disc set.

Here's just some of the nostalgia on offer
- see if Stew gets his Moon on a Stick
- meet the Real Rod Hull (he is him!)
- revisit Simon Quinlank's hobbies
- see inside the Julia Sawalha shrine
- hear Rich say 'ahhh', and then Stew say 'not ahhh'.

The show features young versions of Peter Baynam, Kevin Eldon, Ben Moor, Ronni Ancona, Alistair McGowan and many other famous faces.

But that's not all - as a lovely bonus, modern day Rich and Stew have recorded commentary tracks for every episode and there are commentary tracks from Kevin Eldon, Ben Moor, and one from the Real Rod Hull and Simon Quinlank.
Fist of Fun
The Complete Series 1 and 2
Purchase Options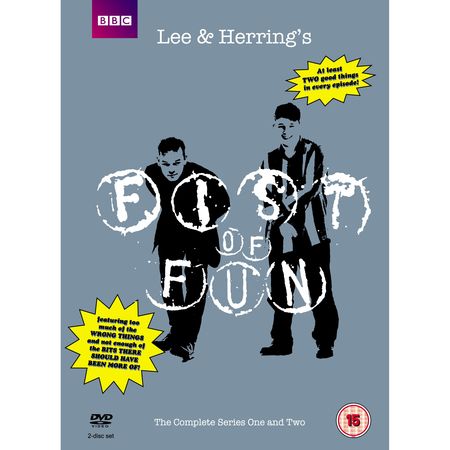 'it's not as good as I remembered' - Stewart Lee
Further Info
Technical Info
main feature - 5hrs 49mins
commentaries - 7hrs 47mins

Subtitles for all episodes

2 x DVD9
4:3
Region 0 - PAL
Stereo - In Colour