"Stewart Lee: Pea Green Boat 10 inch single" has been added to your cart
Stewart Lee
Pea Green Boat 10 inch single
gfs-4vStewart Lee on vinyl.
An owl wakes up at sea in a pea green boat. It is accompanied by a cat, its natural predator. There is some honey. What chain of events led to this dangerous situation?

This is a long awaited luxury vinyl repress of the legendary Pea Green Boat record. On Pea Green Vinyl! (note - it's slightly darker than it looks in the photo)

It's more or less identical to the 2007 release, except this time we have pressed the record on pea green vinyl, and in deference to the times, each disc comes with an mp3 download. Also we've removed the references to myspace from the back of the sleeve.

This is not the live show, or the 5 minute Radio 4 version, but a new specially recorded version, produced by Jane Watkins.
Stewart Lee
Pea Green Boat 10 inch single
Purchase Options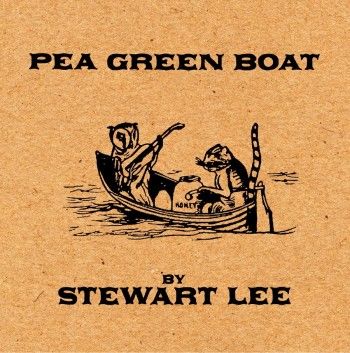 More from Stewart Lee
Pea Green Boat 10 inch single clip
'Lee's droll determination to take the ditty literally makes for a veritable mine of comic potential'
The Guardian
Further Info
Technical Info
running time - 21 mins
sides - 2
Download Version Info
This download is an mp3 audio file.

audio size 27mb
audio format mp3 Download Info