"Simon Donald: Him Off The Viz + DVD" has been added to your cart
Simon Donald
Him Off the Viz
gfs-62revised! expanded! semi-tumescent!
This autobiography is quite candid. It bares its breast at most things...
Actually I've shed a tear or two… A wonderful book
Terry Jones, him out of Monty Python

Simon Donald, co-founder of Viz Comic, made history alongside his brother and a school friend, by turning their playground antics into the notorious sales phenomenon of the late 20th century. Their magazine and its remarkable story is celebrated in Donald's highly rated autobiography, Him Off the Viz, which is re-released by us as an expanded, revised and updated paperback edition.


Simon re-invented the Great British sense of humour, aged just fifteen. He was a founder of the sales-phenomenon Viz Comic, setting up the magazine in 1979 with his brother Chris from a bedroom in Newcastle. He worked on its editorial team for twenty-four years. Staying with Viz four years longer than his brother, Simon left the magazine in 2003, before becoming a stand-up comedian.

This is the story of an extremely colourful life. It tells of Viz's staggering rise from a modest fanzine selling to 150 people at punk gigs in Newcastle pubs, to outselling every magazine in Britain's newsagents with only two exceptions; the Radio Times and the TV Times, and all in a period of just ten years. But it's not just the story of how Viz itself was born, it's not just the real-life stories behind what inspired its characters, and it's not a simple Geordie-made-good rags-to-riches story. This is also a very personal story: Simon faced many private challenges growing up in a rocky family home torn by hardship, illness and loss. Both sides of his remarkable story are told here for the first time. This is the story of a life with some amazing highs and lows. Scoring a goal for Pele, being thrown off live breakfast TV, owning nine virtually identical cars (at the same time) the violent school riot, Noel Gallagher's connection to Sid the Sexist, tabloid headlines after a nightmare awards dinner, smashing all Viz's awards with a golf club and four years of madness on the road with a rock 'n' roll band.
Simon Donald
Him Off the Viz
Purchase Options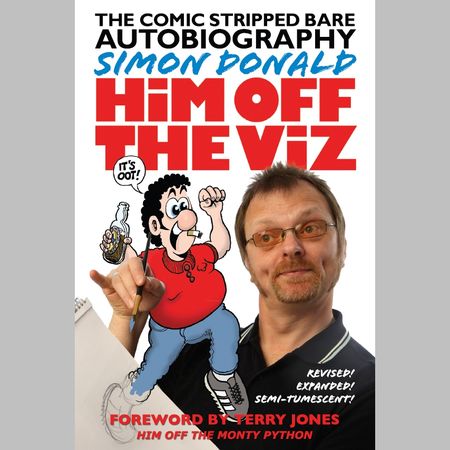 More from Simon Donald
Deluxe Editions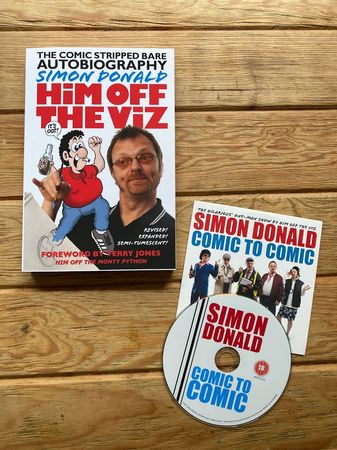 Him Off The Viz + DVD
Simon's book - PLUS a DVD of illustrated talk of anecdotes telling Simon's own story of the birth of Viz followed by his one man show.

(The footage on the DVD was filmed for a documentary on Simon, and although it looks fine - it does zoom in and out a bit.)
£15 - Add to basket
In a small way, Simon Donald changed the way the world laughs, for ever. We had a sneaking suspicion that flatulence was funny, but it took this Geordie visionary, this Giotto of flatus, to free us from the shackles of our sensibilities.
Stewart Lee
Brilliant. I haven't laughed so much in ages. Donald is clearly Newcastle's second funniest man.
Ross Noble